2 NFL cheerleader's were arrested Sunday morning after allegedly having sex with another woman in a restroom stall of a Tampa bar ... Two women, who identified themselves as cheerleaders for the Carolina Panthers, bonded out of a Tampa Jail early Sunday morning ... According to police records, the two women arrested were booked as 22-year-old Kristen Owen and 26-year-old Angela Kaethley, both cheerleaders for the Carolina Panthers. Pictures of the Carolina Panthers NFL Cheerleaders arrested for having lesbian sex in a bar's bathroom stall in Tampa:

Two Carolina Panthers cheerleaders who witnesses told police were having sex with each other in a bathroom stall at a Tampa, Fla., nightclub were arrested and charged early Sunday following a run-in with patrons and police. According to a police report obtained by the CBS TV affiliate in Tampa and the Charlotte Observer, Angela Ellen Keathley and Renee Thomas were arrested following an incident at Banana Joe's, in Tampa's Channelside district, at 2:10 a.m. ET. The cheerleaders were kicked off the football team Monday for violating a signed code of conduct, Panthers spokesman Charlie Dayton said. The two violated a rule that bans conduct that's embarrassing to the team or organization.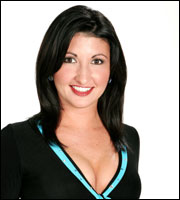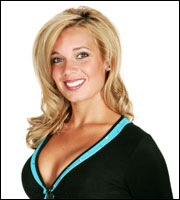 PHOTOS BEFORE ARREST

In the police report, witnesses claimed Thomas and Keathley were having sex with each other in a stall when other patrons grew angry that the two were taking so long in the bathroom. Another woman waiting to use the bathroom got into an argument with the two, and Thomas hit that person in the face, according to details of the report posted on TampaBay10.com, the CBS TV affiliate's Web site. Keathley, who was escorted from the nightclub, was so drunk she could barely stand, the report said. Police described Keathley as rude and belligerent with police. When Thomas was arrested, she gave police the name of another Panthers cheerleader -- Kristen Lanier Owen, the Observer and TampaBay10.com reported. Thomas, who was charged with one count of battery, might face additional charges for lying to police, once they confirm her identity.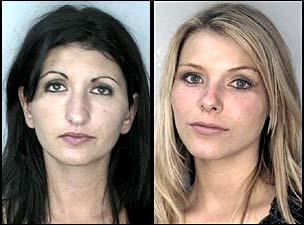 MUGSHOT AFTER ARREST

Keathley was charged with disorderly conduct and obstructing or opposing an officer. Other Panthers football cheerleaders bailed Thomas and Keathley out of Hillsborough County jail later Sunday morning, TampaBay10.com reported. The cheerleaders made the trip to Tampa on their own -- the squad performs on the sideline only at home games. Panthers officials at Sunday afternoon's game said they were aware of the report, but declined further comment when contacted by the Observer. According to the Panthers' official team Web site on NFL.com, Keathley is a registered nurse and second-year member of the TopCats. Thomas is listed as a student at the University of North Carolina-Charlotte and first-year member of the football cheerleading squad. The National Football League had no comment.



Meanwhile, the law firm of Shumaker, Loop and Kendrick of Charlotte issued a statement Tuesday night saying it represents Thomas. "This was an unfortunate incident which has generated numerous rumors and inaccurate facts," the statement said. "Miss Thomas denied all allegations of any sexual conduct." The law firm said it was in contact and cooperating with law enforcement officials in Tampa.

"Miss Thomas apologized to everyone affected by the incident," the statement said, "including the Carolina Panthers, the City of Charlotte, Ms. Holden and the Tampa Police Department. Melissa Holden said she was a patron of Banana Joe's Bar early Sunday morning and was struck in the face by Thomas in the lady's room. Witnesses said Thomas and another cheerleader, Angela Ellen Keathley, had sex in one of the bathroom stalls and got into a shouting match that escalated into a fight, police reported.

"Penthouse magazine is making an offer to the former cheerleaders. The P.R. woman for the magazine confirmed it Monday night. The nationally known men's magazine wants to cash in on what allegedly went on inside the bars bathroom stall. The former Panther cheerleaders are accused of having sex with each other and starting a fight."