Michigan's Long History of Ski Jumping
By Vivian M. Baulch / The Detroit News
Page 2
The Olympics effectively banned ski flying by limiting jumping distances to 90 meters. Flying is held on a 120-meter jump by FIS measurement. FIS is the Federation Internationale de Ski, jumping's governing body. In 1970 the Upper Peninsula hosted the first ski flying tournament ever in the Western Hemisphere on the newly constructed jump at Suicide Hill on Copper Peak.
While most ski jumps permit leaps of 300 to 350 feet, ski-flying hills like Suicide Hill enable skiers to sail 500 to 600 feet. Only a handful of skiers share the will and skill to attempt jumps of that distance. "It takes a very experienced and calculated person. The average weekend skier wouldn't be able to handle it," Gene Kotlarek said. "Something as spectacular as this may help maintain interest among high school boys we're training as jumpers, establishing a pinnacle for them to reach," said Kotlarek, a U.S. ski-jumping coach from Minneapolis.
The highly specialized sport of ski flying has no more than 100 skiers in the world capable of participating in the event. "Your top class of competitor is the only one in this discipline," Kotlarek said. At the time Suicide Hill was built, only four other flying hills existed in the world: Planica, Yugoslavia; Oberstdorf, West Germany; Mitterndorf, Austria, and Vikersund, Norway. The Yugoslavian hill was the only one that would enable longer jumps than the new Michigan hill.
The million-dollar jump on Copper Peak near Ironwood was built with funds from the federal government and the Great Lakes Regional Commission. The Gogebic Ski Club had been trying to get financing for the a hill for 30 years. The club had formed in 1935 to "encourage and promote" ski jumping in the country.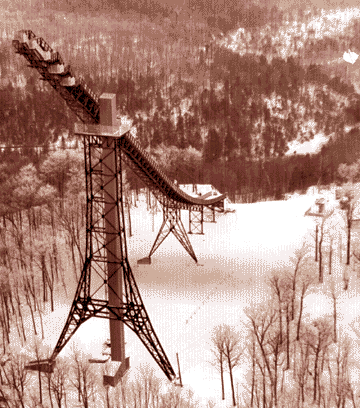 Suicide Hill on Copper Peak near Ironwood was constructed in 1970. The slide stands 241 feet above the summit of the hill.


The International Ski Federation granted the Ironwood promoters a sanctioned meet even before ground for the huge hill was broken. The tower rises 241 feet above the crest of the peak, which itself rises 364 feet. An elevator takes fliers up 180 feet. They walk the rest of the way. The huge hill has a vertical drop of 590 feet and an overall length of about 1,700 feet.

From a takeoff of about 75 mph, the flier will have to fall some 200 feet downward -- about the height of a 20-story building. The forward motion and sloped landing area ease the shock of impact.

The use of wings or stabilizers is forbidden. Snow can be added with machinery, but wind can cancel or delay an event.

The site can handle 50,000 spectators. An elevator that can carry 12 rises to an observation tower that provides a view encompassing much of Lake Superior, the Apostle Islands and Black River Harbor. Copper Peak is 12 miles north of Ironwood in the Ottawa National Forest. It averages more than 130 inches of snow per season.

Conditions favorable for winter sports and the enthusiasm of local residents helped name Northern Michigan University as a Winter Olympics Team training site. The Ski Hall of Fame located in Ishpeming honors the sport's rich heritage. It was there in 1904 that the National Ski Association was formed by the Finns, Swedes and Norwegians who had settled in the Upper Peninsula. The NSA later evolved into the United States Ski Association.

The northern European, snow-loving immigrants who came to Upper Michigan found it similiar to their old homelands and brought their sports with them. They had come to be miners and lumbermen but became part of Michigan's skiing history as well.

.

Researchers: Vivian Baulch, Linda Culpepper, Kay Houston, Anita Mack, Laurie Marzejka, Julie Morris, Jenny Nolan, Pat Zacharias, Wendy Culpepper
Editorial and production: Larry Wright, Alex Vida