General Info:
Our 174 elegant suites feature skyline views and indulgent marble bathrooms with whirlpools or deep soaking tubs. Each suite features two-line telephones and voice mail, facsimile and PC connections, safety deposit boxes, iron, ironing board, coffee maker, and hairdryer.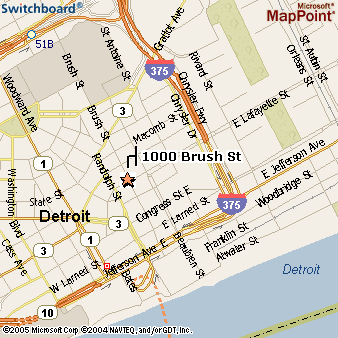 Review: Review: Oct. 19, 2005
From the minute that you walk into the splendid lobby of the Ateneum, you can tell that this hotel is super! If you are looking for spacious suites and first-class accommodations in Detroit, the Ateneum is for you. The room layout was terrific and comfortable. You enter into a living room with couch, desk, television and then a wide hallway leads past the marble bathroom into a sunken (three stairs down) bedroom. The fixtures and furnishings are beautiful. I have stayed in some of the finest hotels in the country (including many Ritz Carltons) and this hotel can compete with any of them. Detroit seems to be on the upswing and this hotel is in the middle of it all. It is only a short walk to Comerica Park where the Detroit Tigers play and the Greektown Casino is virtually connected to the hotel. All of the front desk staff were outstanding and treated our family (including four young children) like we were royalty. Also, we received terrific restaurant recommendations from the staff. You have to eat at the nearby Pegasus Taverna, where they serve the best Greek food I've ever eaten (ask for the flaming cheese and enjoy them belt out "OPA").
Review: July 12, 2005
This is the best hotel I've EVER went to. It is very clean, and perfect for people to get away for peace and quietness. I went there with my family and we had a great time. The bathrooms were very big, and the bathtubs were so comfortable, they're bathtubs have little armrests in there, so it feels like you're at the spa! I would defenitely recommend this hotel, its really great!
Review: June 2, 2005
My husband, sister-in-law and I stayed at the Atheneum Suites during Memorial Day weekend. We were in town for FUSE-in/DEMF, which is why we wanted to stay in Greektown rather than the hotels across the street from the festival.
The staff was very polite and accommodating. Our flight arrived around 6 am, and although check-in wasn't until the afternoon, they let us go up to our room early. They offered a Continental breakfast which was really minimal (even as Continental breakfasts go), but there were plenty of other places around the hotel to eat. Our room was very spacious and clean. There was a lounge area with a couch, desk, TV & minibar, and then a few steps down (there were two levels) was the bedroom, also with a TV. The bathroom was big, with Gilchrist & Soames bath amenities.