General Info:
The Townsend Hotel is a Mobil 4-Star and AAA 4-Diamond hotel, as well as a perennial favorite on the Condé Nast top hotels. A haven for the most discerning travelers, its splendid combination of amenities, service and setting await your pleasure.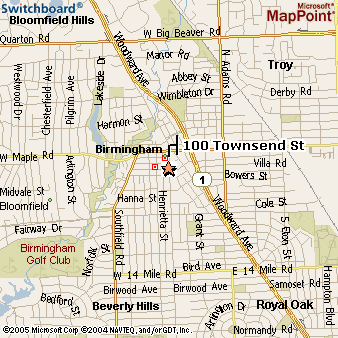 Review: Oct. 20, 2005
My wife and I spent a romantic evening in the hotel. The room was clean and simple. The bathroom was great. The room had a view of an alley - I'd request something else next-time. It was very expensive and we would have went to the Ritz in Dearborn if they had rooms. You can't beat the location for restaurants, shopping, etc. It can be a bit snobby. Room service was a bit slow and very expensive but decent.
Review: Sep. 26, 2005
I recently stayed 3 nights at the Townsend on a business and was fortunate enough to stay in a suite which had the largest most comfortable bed I've ever slept in. I've never been so happy to have jetlag to make excuses to go to bed early.
Aside from this treat I have to say that the customer service was exceptional, no detail was spared, the staff greeted me by name in the dining room, we used the conference facilities and the staff were excellent and thorough, the checkin never failed to greet me before helping the attending to each request and the concierge arranged and rearranged transportation for me as my schedule changed.
My only negative comment would be that I was told the fare to the airport would be $70 including tip and it turned out to be $90
Review: June 10, 2005
I have to say we never even got to the hotel. We live locally near the hotel and made reservations for our wedding night at the Townsend. It is quite a tradition from what I was told that if you are staying in town the night of the wedding, the Townsend is the place to go.
They were aware it was our wedding night - they called the day of the wedding to tell us our room had 'flooded' and they had no other rooms available - 'sorry' They did absolutely nothing to help us find another room. I called and left several VM's with management with no response. I finally managed to reach someone who told us they would send a gift certificate to compensate us. I'm not sure how you can do that - its not like we are going to get remarried just so we can stay at that hotel on our wedding. To date, we have never rec'd any gift certificate from them.