General Info:
The hotel, adjacent to the Edward J. McNamara Terminal at Metro Airport, opened in late 2002, with luxury decor, high-speed Internet access throughout and atmosphere and cuisine inspired by Northwest Airlines' service to Asia.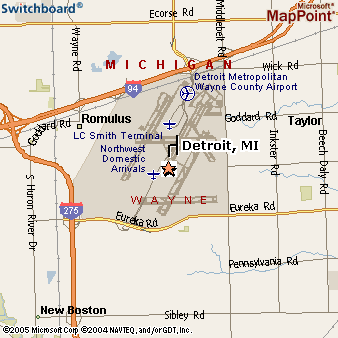 Review: Review: Dec. 2, 2005
This property is attached to the Detroit airport - convenient if you have an early morning flight, but not so convenient if you need or want to be downtown. The rooms are very comfortable (i love Westin's heavenly bed), the ambiance is very relaxing, staff is helpful, and wi-fi access works well. A great place to relax and get some z's before jetting back home.
Review: October 29, 2005
We stayed twice at the Westin - once the day we arrived into Detroit and once the day we were leaving. This hotel is brilliant for relieving the stress and weariness of air travel. The beds were the most comfortable I had ever slept in and the shower was brilliant. The first time we stayed we had a room looking out onto the airport and I much preferred that. There was no noise at all, an interesting view and some daylight! This was my only problem with this hotel - it was difficult to see daylight - everything was very dim and I think you could probably have a whole stay there without seeing the sky. The second time we stayed we had an inside room, looking over the lobby. The room and beds and shower were still all brilliant, but I much preferred the outside room. Service was very good and the food excellent, although expensive. Lesson - do not use your room phone to make even a short international call - I was charged about $25 for less than 2 minutes!
Review: Sep. 21, 2005 I stayed here for one night and found the hotel to be very comfortable and convenient. The reception area is very stylish and well maintained. Check in went very smoothly. My luggage arrived promptly within 15 minutes of check in. The service at the restaurant was very quick and the food was excellent. The "heavenly bed" was just what I needed after my long flight from the UK and the "heavenly shower" was exactly what I needed to wake up for my early morning flight. The bellman was very friendly and carried my luggage to the check in desk inside the airport.
Overall, clean, reasonably priced ($99) and relaxing hotel.
I will certainly be staying here again in the near future.